News
Details
John Lothian News interviewed several people at FIA Expo; including Blue Trading Systems' Kevin Darby, on cryptocurrencies and distributed ledger technologies. See what Kevin has to say along with other industry leaders such as Ed Tilly from Cboe Global Markets, Chris Hehmeyer from Hehmeyer Trading + Investments and Thomas Flake from bcause. This is an exciting new asset class and Blue Trading Systems is looking forward to watching it develop.
You can watch the video on JLN Here
---
Details
BTS Edge, our flagship options trading platform, was built with a focus on engineering excellence, speed, reliability and flexibility. We aim to provide our users with an efficient and easy way to manage trading operations in the derivatives markets.
Here in our BTS Real Edge video series, we demonstrate how our options tracking system initiates the electronic eye functionality for outright calls and spreads. We walk users through the task command center as well as how to modify tasks and edit parameters.
With the BTS Edge API currently in beta, you will soon be able to integrate your own proprietary algos with our innovative tasking system.
---
Details
Blue Trading Systems is back in the office after a busy week at FIA Expo in Chicago. We met with a lot of traders that are challenged by their current futures platform. We heard that traders want lower latencies, more control over their server hardware and better support from their vendor partners. BTS Spark answers all those concerns elegantly.
BTS Edge, our flagship options trading platform featured at past FIA Expos, was built with a focus on engineering excellence, speed, reliability and flexibility. Once we saw the need in the futures space, we brought the same philosophy to building BTS Spark.
We introduced BTS Spark at this year's Expo (you may have seen the kick plates at the 8th Street entrance or visited us at booth 1013) because we believe this is what the market needs right now.
We have invested heavily in R&D to establish our niche delivering the lowest latencies commercially available. You can read the Quantitative results on speed in our white paper here. Also, we will be sharing more information on latency in BTS Spark in the coming months.
Your algos can be linked through BTS Spark API, and we've partnered with Celoxica for more deterministic latencies with less jitter. Reasonably priced for $1000 a month, the accelerated FPGA version upgrade costs an additional $1000 per month.
If you are interested please contact This email address is being protected from spambots. You need JavaScript enabled to view it.
---
Details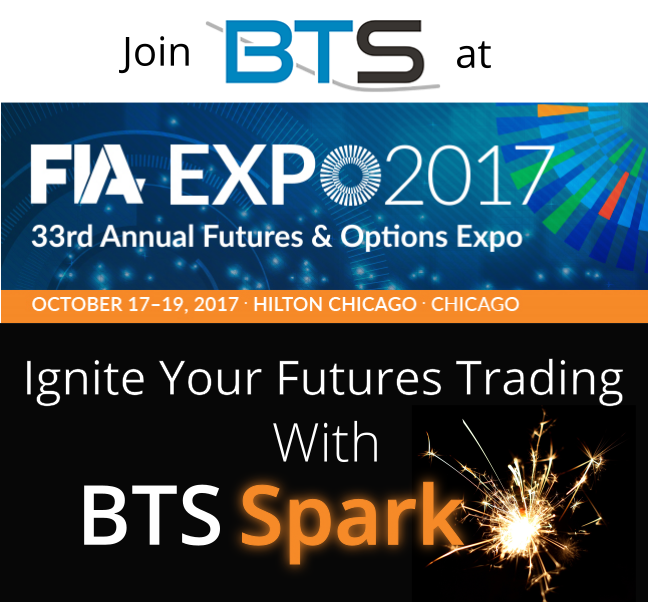 Blue Trading Systems is making a play for the futures market. Visit us at Booth 1013 to learn more about how leading players in the derivatives space have moved over to BTS Spark for a competitive alternative platform with API access. We support all instruments on the CME, with plans to expand our market connectivity offering in the near future, and have partnered with a deterministic FPGA provider for accelerated versions.
If you need an FIA exhibit hall pass, please register here. We look forward to showing you how the game is changing with a demo of BTS Spark and helping you make your move.
FIA Expo 2017
October 17-19th
Blue Trading Systems – booth 1013
Hilton Chicago
725 South Wabash
Chicago, IL 60605

---
Chicago
318 W Adams St
Suite 1724
Chicago, IL 60606
Telephone: (919) 913-0850
Chapel Hill
194 Finley Golf Course Road
Suite 100
Chapel Hill, NC 27517