News
Details
As the holidays approach, we reflect on an eventful and productive 2017. Conversations with a diverse group of potential customers we met at various industry events revealed new market opportunities and began what we hope will be several mutually beneficial relationships. We adapted our strategy accordingly, broadening our focus, which has traditionally concentrated on options trading, to include futures and introduced our new product, BTS Spark.
Memberships
We joined the Futures Industry Association (FIA) and the Securities Traders Association of Chicago (STAC). FIA is a leading global trade organization for the futures, options and centrally cleared derivatives markets. Their mission supports transparent and competitive markets, protects and enhances the integrity of the financial system and promotes high standards of professional conduct. STAC comprises individuals in the securities space working to improve the ethics, business standards and working environment of its members. As members of these organizations, we will work with colleagues to meet challenges and influence best practices.
Events
We attended conferences including FIA Boca, The Trading Show in Chicago, the Options Industry Conference and FIA Expo. We gained insights into users' experiences - what they do and don't like about existing products and what they wish someone would build. We found demand for lower latencies, more control over server hardware and better support from vendor partners. We introduced our futures trading platform, BTS Spark at FIA Expo, to meet emphatically all of those demands.
Partnerships
We collaborated with Celoxica to offer an accelerated version of our futures platform with expanded market coverage. The result is far less market data jitter through lower, deterministic latencies and superior overall trading performance. Our product also includes a lower latency spreader and a front-end User Interface with API access. Written in C++ for minimal latency, it can be collocated on private or shared servers.
In 2018, we will continue our involvement with FIA and STAC and will work closely with Celoxica to bring you the lowest latency, most dependable futures trading platform available.
We look forward to seeing all of you at industry events, and we wish you and your families the best this holiday season and hope you will have a prosperous 2018.
---
Details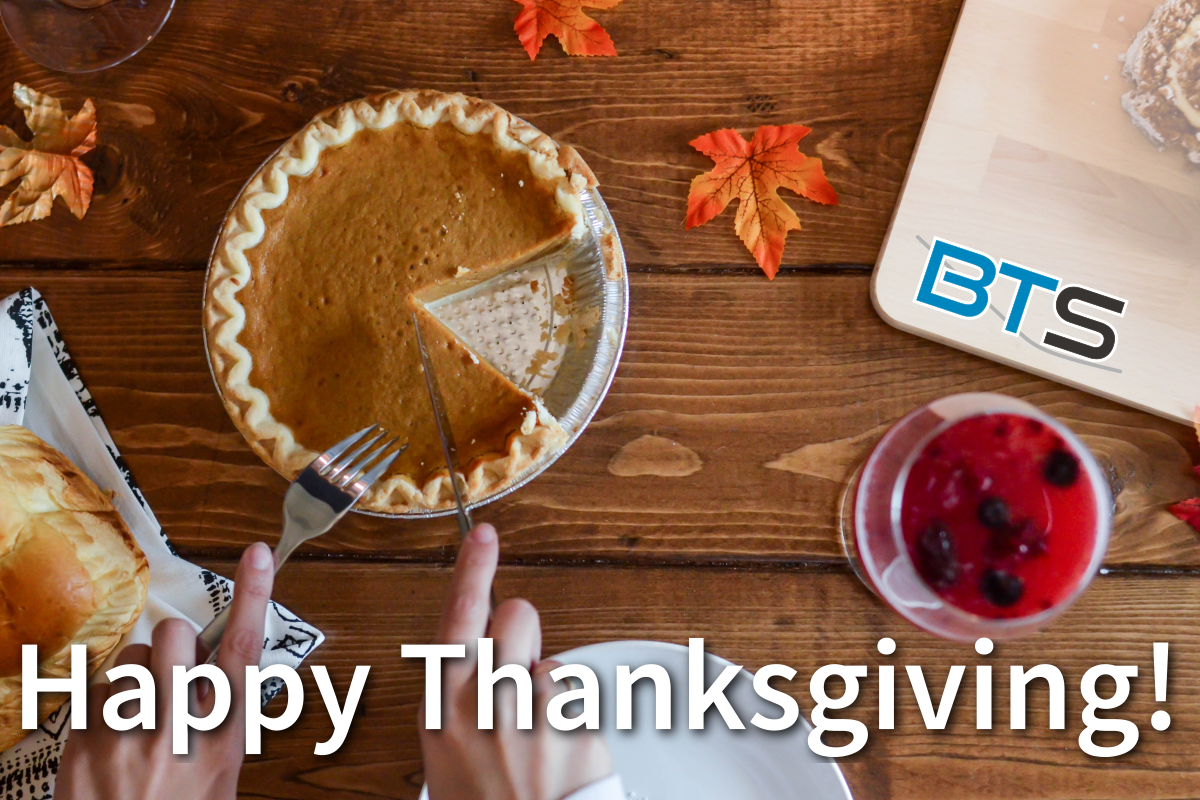 We want to take this opportunity to wish you a Happy Thanksgiving. We are grateful for the opportunity to work with you and provide you solutions that keep you at the cutting edge of derivatives trading.
Thank you!
We hope you enjoy the holiday break.
---
Details
BTS has deep roots in electronic options trading; that experience has helped us to refine the user interface of BTS Edge into something intuitive for use on the floor and comprehensive enough for use on the desktop.
In this video, see how efficiently you can RFQ and create an electronic eye task on a handheld tablet while on the floor. We show you how you can view the Greeks and manage shared spreads all without leaving our trading sheets. Watch the video below and contact us, with questions or to set up a one to one demo.
---
Details
John Lothian News interviewed several people at FIA Expo; including Blue Trading Systems' Kevin Darby, on cryptocurrencies and distributed ledger technologies. See what Kevin has to say along with other industry leaders such as Ed Tilly from Cboe Global Markets, Chris Hehmeyer from Hehmeyer Trading + Investments and Thomas Flake from bcause. This is an exciting new asset class and Blue Trading Systems is looking forward to watching it develop.
You can watch the video on JLN Here
---
Chicago
318 W Adams St
Suite 1724
Chicago, IL 60606
Telephone: (919) 913-0850
Chapel Hill
194 Finley Golf Course Road
Suite 100
Chapel Hill, NC 27517