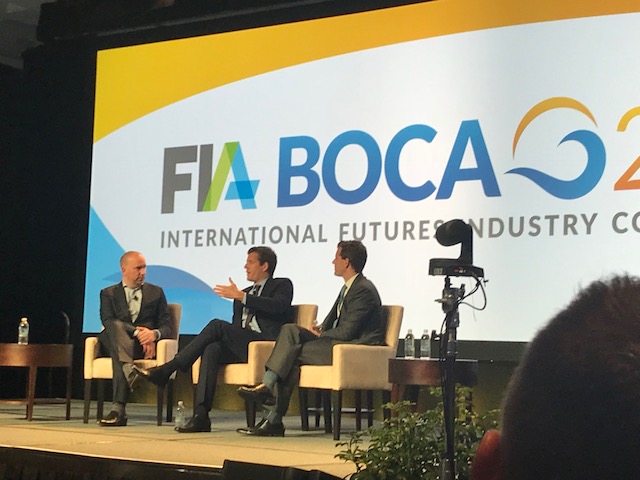 Blue Trading Systems attended the Futures Industry Association (FIA) Boca conference last week in Boca Raton, Florida. The gathering is always a great place to catch up with the players and keep up with issues in the derivatives markets. This year's discussions revolved around new technologies, where to find innovation and a look back on the years since the financial crisis.
Technology
One of the most well attended panels at the FIA Boca conference this year was a chat between FIA Tech's Nick Solinger and Tyler & Cameron Winklevoss. The twins who teamed up with Cboe Global Market to launch the first ever bitcoin futures contract, also founded Gemini Trust; an exchange, clearinghouse, custodian and brokerage firm for cryptocurrencies.
They were at one time Bitcoin billionaires but lost about 37% of their fortune during January's volatility.
"We first bought Bitcoin in 2012 when it was at $8 a coin," said Tyler Winklevoss. "We are used to these volatility cycles."
The Winklevoss twins talked about the early days and how anyone could have been an early adopter.
"Anyone could have been an early adopter, it is very democratic in that way and one of the first asset classes where retail investors got in first," said Tyler. "Wall Street was asleep and Silicon Valley missed out."
They believe that the launch of bitcoin futures brought institutional investors into the market and that more players will enter as the space develops.
"In time, more people will have access to education around this market," said Tyler. "We will also see more market capital, higher volumes as well as entrance and exit ramps, which will also grow this asset class."
At a related session discussing blockchain, the technology behind bitcoin, InterContinental Exchange's Jeff Sprecher interviewed Michael Casey, author of "The Truth Machine: The Blockchain and the Future of Everything."
Casey agrees with the Winklevoss twins in that this is a very democratic technology and that it serves the greater good for everyone to get involved.
"If we only have one group of people designing a system, not everyone's interests will be protected," said Casey. "We need women and more diversity in blockchain so all groups are represented."
Casey explained that blockchain's decentralized nature is driving the technology as well as spawning leaders to emerge.
Sprecher referred to "forks;" such as the decision for bitcoin to split off into bitcoin cash and bitcoin gold when he said that everything happening in the cryptocurrency space is brought on by "social leaders using brute force."
Innovation
The topic of leadership was brought up in Walter Isaacson's lunch keynote. Isaacson, author and former Chairman and CEO of Cable News Network (CNN) among other titles, talked about how creators and collaborators provide innovation.
"Smart people don't amount to much," joked Isaacson. "It's the creative and collaborative people that get things done."
He referred to the Period of Enlightenment in Europe, specifically in 1476 when Da Vinci landed in Florence as well as when the United States Declaration of Independence was signed in Philadelphia in 1776.
"Innovation comes from the intersection of humanities and science."
When someone in the audience asked Isaacson whom he admires most, he said Ben Franklin.
"He was the glue that held people together," said Isaacson. "Compromisers don't make great heroes but they do make for great democracies. We are missing this in our society today."
Looking Back
One of the main themes of the conference was the 10 year anniversary of the financial crisis. FIA President Walt Lukken led a panel discussion looking back at the 2008 crisis. Barney Frank, one of the politicians who wrote the sweeping Dodd Frank legislation in response to the financial crisis, was joined on stage with Paul Atkins, former Commissioner of the Securities Exchange Commission, Craig Donohue, Executive Chairman and CEO of OCC as well as Thomas Russo, Former Executive Vice President & General Counsel of American International Group (AIG).
The panelists agreed that there was confusion as to why the government bailed out Bear Stearns and AIG, but let Lehman Brothers fail. They also noted clearinghouses for listed derivatives contracts were of particular importance after the crisis.
"OTC markets had grown too large and bringing them to the centrally cleared market structure was something Dodd Frank got right," said Donohue.
Conclusion
It seems that the derivatives industry has turned a corner as we move forward from a financial crisis into a world of financial technology. New asset classes are developing, emerging technologies are being explored and leaders are being scrutinized as their decisions years ago are still impacting us today.