Blue Trading System's is a family of traders, technologists, innovators and committed professionals. The women and men that work here want to build something that not only meets demand but advances the industry. We are sharp, loyal and strategic.
As we enter 2018, we wanted to highlight the people behind the name. These are the ones applying their knowledge, dedicating their time and investing their money in Blue Trading Systems. Throughout this year we invite you to learn more about the people building the solutions.
This week we are excited to introduce to you Taha Afzal, Managing Partner and Co-founder of Blue Trading Systems. Taha will be in Chicago this week at the Securities Traders Association of Chicago's Mid-Winter Meeting. If you would like to meet with him, please send him a note at This email address is being protected from spambots. You need JavaScript enabled to view it..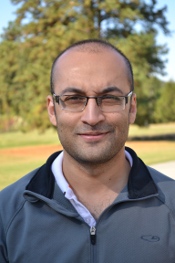 What is your name, title and responsibilities at Blue Trading Systems?

Taha Afzal, Managing Partner and Co-founder. While we've been around for almost a decade, BTS operates like a startup and just like most, responsibilities include anything that needs to be done. However what I enjoy the most are product design, developing volatility management tools and electronic trading algorithms.



How did you get into this field of derivatives trading? Trader or technologist?

Technologist. During the last few months of graduate school, I got exposure to financial engineering which got me interested in derivatives, and as luck would have it, a friend of mine forwarded me an email of his friend who was looking to hire developers at an Options trading firm. That firm was Blue Capital Group, from which Blue Trading Systems was spun off, and the hiring manager was Pedro Pinto.



From your perspective, can you describe the relationship between BTS and its clients?

I believe that close relationships with clients is one of our strengths. The founders stay in constant touch with our clients, and whether it is discussing volatility curve dynamics or helping them optimize their electronic trading engines for maximum performance, we are always there to help them. We love to discuss ideas with our clients and incorporate their feedback into the system, to make it a win-win situation for both sides.



How has BTS evolved since you started at the company?

Technologically, we have never been stronger. Philosophically, we have never been more in touch with our strengths.



What are a few challenges the industry is currently facing?

Rapidly growing and fast evolving regulations for one. For algorithmic traders, its the need for speed and the constant challenge to be at the forefront of it (thankfully, that works in our favor). There is also the ever growing volume of data, which presents its own challenges.



What is your favorite piece of advice regarding trading, technology, the markets, leadership?

Embrace the changes, things move quickly. However, respect the basics and fundamentals, they never go away. Hire the best people you can, and trust them.



If you had to pick, what animal would you be and why?

King Cobra. It eats other snakes !


If we have piqued your interest, please visit our About Us page for more information about our people and our history. We also invite you to learn more about our superior options and futures trading platforms BTS Edge and BTS Spark.