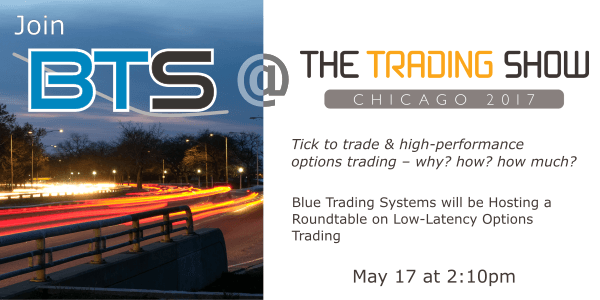 Join Blue Trading Systems' Pedro Pinto and Kevin Darby at The Trading Show next week, where we will be hosting a roundtable on the importance of latency in high-performance options trading.
The increasingly competitive options market demands systems built from the ground up with low latency in mind. Traders need faster tick to trade latencies to avoid getting picked off by competitors.
We will discuss our benchmark methodology, including the hardware and software used, and how the BTS Edge system was configured to provide numbers consistent with real world scenarios. We will cover what and how we measured, and share what we learned in our pursuit of low-latency.
Blue Trading Systems enhances trading strategies and accelerates quoting times with low latency, agile software solutions. We built our electronic trading system from the ground up for today's demanding markets. Our trading system provides options market makers and proprietary trading firms the reliable, forward-thinking resources they need to gain a competitive edge.
Highly flexible volatility controls allow clients to tune the response to changing market conditions, which leads to more reliable prices and realistic, accurate risk reports. Our risk reports provide a comprehensive survey of your position's exposure to changes in market conditions in a flexible, user-specified format.
If you can't make it to the roundtable but would like to receive a copy of our report, send us a note at This email address is being protected from spambots. You need JavaScript enabled to view it. and we will keep you in the loop. Or Contact Us if you would like to know more about BTS Edge, our ultra low latency trading system.