Now that we have had significant time with BTS Spark in production, we wanted to go over some of the features and functionality that are creating a buzz within our customer base.
BTS Spark is unquestionably the fastest off the shelf futures trading platform. We have heard from customers that have switched to our platform, that they are competing with a completely different set of players because of the speed of our solution. We also provide unrivaled user control and transparency of timings, while keeping proprietary trading algorithms private.
Please read more below about our 15-microsecond futures spreader offering better fill quality, as well as and a growing library of algorithms users can leverage.
Spreader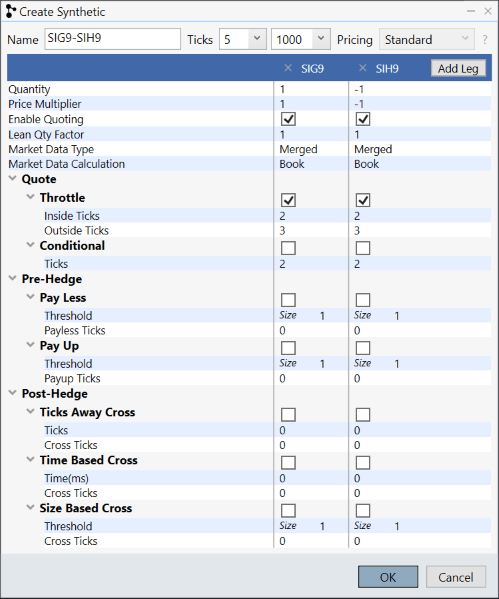 One of the main features our customers take advantage of is the ability to manage and create Synthetic spreads. Traders can create synthetics from scratch with an unlimited amount of legs specifying quantity, price ratios and overall pricing for the spread.
Additionally, you can further customize the spread with throttles as well as pre and post hedge inputs based on a variety of parameters. These include, Pay Less and Pay Up, both of which utilize the depth of the book and can be based on ticks or ratios to define your tolerances. On the post-hedge side, there are 3 customized inputs that will cross or complete the spread based on either ticks, time, or size
BTS Algos
BTS Spark also includes a robust list of algorithms that are composable with your own algorithms. This unique feature enables users to leverage a growing list of constantly updated algorithms that our expert engineers developed based on traders' input. By composing our algorithms with their own, our customers are able to leverage our expertise.
Below, we explain the algos that come "out of box" with the BTS Spark platform.
Lean

The goal of the lean order is to watch the opposite-inside market size and cross when that size goes below the threshold. Lean will also chase a specified number of ticks if the market trades away from you.

Join

The goal of the join order is to watch the opposite-inside market and join when the market flips and has at least threshold size.

Cover

A Cover order's purpose is to fire a hedge order (of any algo-type) in response to fills from it's child order on the opposite side of the market N ticks away.

Oco

An OCO order creates a relationship between a child order and a 'stop' or 'other' order such that when one of these is cancelled, both cancel, or when one is filled, the other order's size is debited in the amount of the fill. Composing this order with Cover simulates scalping functionality.

Top

The top order specifies a quantity threshold; if the order is at the top of the book, and the quantity remaining falls below the specified threshold, the order will be canceled.
Conclusion
BTS Spark is the lowest latency vendor futures platform available today with verifiably better fill quality. We have a plethora of features and functionality in production to continually help customers gain a competitive edge in futures trading.
If you are looking for an alternative solution you can host in your own data center, with lower latencies and and a growing algo library; please reach out to us for more information about BTS Spark.