Blue Trading System's is a family of traders, technologists, innovators and committed professionals. The women and men that work here want to build something that not only meets demand but advances the industry. We are sharp, loyal and strategic.
As we enter 2018, we wanted to highlight the people behind the name. These are the ones applying their knowledge, dedicating their time and investing their money in Blue Trading Systems. Throughout this year we invite you to learn more about the people building the solutions.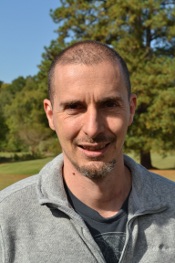 What is your name, title and responsibilities at Blue Trading Systems?

My name is Pedro Pinto, I am one of the founders of BTS. My main responsibility is to lead the Software Development group.



How did you get into this field of derivatives trading? Trader or technologist?

My grad school advisor was golfing partners with Trevor Colvin our CEO, back in 1999. At the time Trevor was looking to grow the technology team at Blue Capital Group and my advisor put us in touch. I knew nothing about finance but it was very clear after talking to Trevor that this was an exciting field, filled with intelligent people dealing with very challenging technical problems.



From your perspective, can you describe the relationship between BTS and its clients?

Given our roots as a trading firm we have a deep empathy with our customers. We understand that their livelihood is inextricably linked to the performance and sophistication of their trading systems. That consideration is one of the main drivers in our decision making. Our product design, development and testing efforts are all oriented towards building robust, high-performance high value software that maximizes our clients bottom line.



How has BTS evolved since you started at the company?

Our group started out as the technology arm of Blue Capital Group, a fairly successful options market maker. As we transitioned to working as a Software Vendor we went from sitting next to a single customer trading a very narrow set of instruments in a specific way, to serving the broader trading community. Navigating this transition was challenging, but ultimately extremely rewarding. We were able to develop new processes and new technology that allow us to quickly go from product concept to robust production code.



What are a few challenges the industry is currently facing?

One of the biggest challenges we see are increasingly prohibitive technology costs. Today it is almost impossible for all but the largest trading firms to develop competitive trading software in-house. We see ourselves as playing a small role in combating this consolidation pressure. Because building trading software is all we do, we have gotten good at it and we are able to provide the trading community with high-quality solutions at a fraction of what they would have cost to develop internally.



What is your favorite piece of advice regarding trading, technology, the markets, leadership?

Do sweat the details. That is where the devil is.



If you had to pick, what animal would you be and why?

Dolphins of course. The smartest animals on earth, all they do is muck about in the water having a good time.