News
Details
Managing Partner Kevin Darby spoke on a panel last week at FIA Expo exploring Open Source and Interoperability on the Trading Desk. Joined by Brian Peterson at Hehmeyer Trading + Investments, Jared Broad from QuantConnect, Tom Schady from GreenKey Technologies and moderated by Greg Wood from FIA; the group discussed how open source software can lead to increased innovation. If you missed it, below is a re-cap of the discussion.
What is Open Source Software (OSS)?
Many people don't realize that they use open source software in their everyday lives. For instance, OSS serves as the core of both Android (Linux) and iOS (Darwin) phone operating systems, and most websites are served from Linux servers.
Sharing source code originated at Universities with students and academics sharing software. Later, open source licenses enabled software to be shared more widely. OSS leverages wide communities to build features and fix errors rapidly. For example, all software code has a certain number of errors or bugs, but more eyes on the code means less bugs in the the software.
Interoperability
Open source software can also provide protocols and data format standards that enable communication between systems, which is called interoperability. BTS uses Google's protocol buffers within its system and API to standardize communication between the client front end, the server, and with custom programs developed by traders.
Applications are often written in layers, allowing open source and proprietary code to coexist in in the same system. With these layers, some parts can be designed to be interchangeable; enabling interoperability with many different APIs and standards. FIX is a good example where one system may need to communicate with many, often incompatible versions; building communication layers allows translations from each FIX dialect into a consistent form used by the system.
Judicious use of OSS can reduce friction in interoperation between different systems and speed up development. For example, BTS uses the Boost C++ libraries for many common functions which we would otherwise have to write ourselves.
Security
A common concern about OSS is that the code is visible and an attacker may be able to find and exploit a security vulnerability. However widespread community security evaluations prove that when more people have access to code, more issues are fixed. The panel emphasized that 20,000 people will see more issues than 20 people.
Also, security vulnerabilities are fixed quickly because there is constant and consistent peer review. Bounties; where a company pays to be informed of a security hole, can significantly improve the number of issues found.
There are also tools which search for code known to contain vulnerabilities in publicly available source code such as those used by Github.
Conclusion
In conclusion, while there are security and backwards compatibility concerns with Open Source Software, the panel largely believed in its ability to foster Interoperability and innovation and to address bugs and security flaws quickly.

If you would like to learn more about how Blue Trading Systems designs their software and other research projects ongoing at the firm, please email This email address is being protected from spambots. You need JavaScript enabled to view it..
---
Details
Managing Partner Kevin Darby will speak on a panel at FIA Expo exploring Open Source and Interoperability on the Trading Desk at 1 pm on Thursday, October 18.  Joined by Brian Peterson at Hehmeyer Trading + Investments, Jared Broad from QuantConnect, Tom Schady from GreenKey Technologies and moderated by Greg Wood from FIA; the group will discuss how open source software can help systems interoperate and allow humans to focus more on providing value.
Open source offers clear benefits in areas such as communication and serialization protocols to promote interoperability between systems.  Additionally, linking in generally accepted and peer reviewed libraries dramatically shortens dev time, however best practices must be followed to avoid common pitfalls around data security, code correctness, and performance.
We invite you to learn more about the pros and cons of Open Source on the Trading Desk from this esteemed panel of technology experts and hope to see you there.
---
Details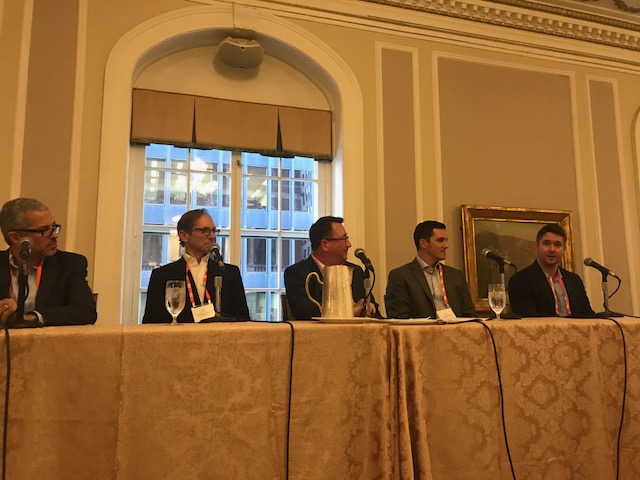 The Futures Industry Association (FIA) held a panel discussion on September 11 at the Union League Club covering the basics of cryptocurrencies, what impact the futures industry has had on the space and how regulators have responded to the new asset class.  
Moderated by Greg Wood, Senior VP of Global Industry Operations and Technology at FIA; the panel included Kevin Darby, Managing Partner of Blue Trading Systems, Chris Hehmeyer, CEO and Founder of Hehmeyer Trading + Investments, John Tornatore, Global Head of Crypto at Cboe Global Markets and Giovanni Vicioso, Senior Director of Equity Products at CME Group.
Read more: FIA Crypto: The Futures Influence on the Crypto Markets
---
Details
We are excited to announce that we have partnered with Born Technology to provide professional traders with rapid access to our ultra low latency futures trading software delivered via Born's private, global financial network.
Establishing the relationship was an easy decision for us as our offerings align exceptionally well. For over a decade, we have been providing derivatives trading and risk analytics software to firms looking for a competitive edge. Since 2002, Born pioneered the managed services model, providing its buy and sell-side clients and ISV's with ultra-low latency colocation and market access, along with tools to monitor, measure and manage their order flow.
"Partnerships are a critical part of BTS' continued success in many ways. Born's reputation for cutting edge technology, superior support and international reach makes it a perfect fit for BTS," said Kevin Darby, Managing Director at Blue Trading Systems. "Developing an alternative solution outside of the cloud was of central importance to us. Cloud based platforms, along with the associated privacy risks, are often not the best fit for professional traders."
We are committed to continuing a software evolution delivering significant speed and cost benefits, offered to Born Technology's wide distribution of global FCM's and professional trading groups. Our BTS Spark platform provides control and transparency while keeping proprietary trading algorithms private. It includes a 25-microsecond futures spreader and algo system that allows customers to develop their own algorithms and compose them with those that we wrote. Currently in production at CME, with plans to expand exchange connectivity to Eurex and ICE during Q4, BTS Spark is the most cost-efficient solution for verifiably better fill quality available today.
"We are always looking for solutions to help our clients meet the ever changing and demanding needs of professional traders in the futures market and continue to be very impressed with the BTS offering," said Chris Haworth, President of Born Technology. "Their passion and commitment to develop and deliver high quality, low latency trading software is exemplary. We are proud to partner with them and excited to offer this to the global trading community."
If you are interested in learning more about the partnership or our BTS Spark platform, please email us at Brian Muhr at This email address is being protected from spambots. You need JavaScript enabled to view it. or visit us at booth 1030 at FIA Expo.
---
Chicago
318 W Adams St
Suite 1724
Chicago, IL 60606
Telephone: (919) 913-0850
Chapel Hill
194 Finley Golf Course Road
Suite 100
Chapel Hill, NC 27517