News
Details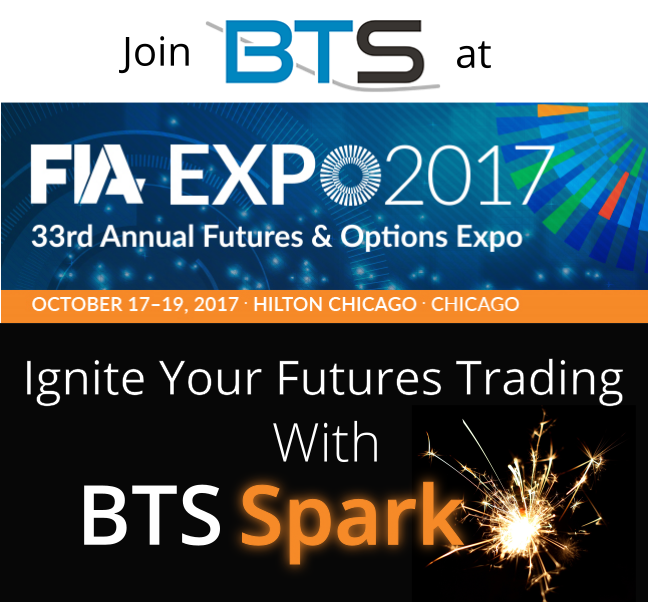 Blue Trading Systems is making a play for the futures market. Visit us at Booth 1013 to learn more about how leading players in the derivatives space have moved over to BTS Spark for a competitive alternative platform with API access. We support all instruments on the CME, with plans to expand our market connectivity offering in the near future, and have partnered with a deterministic FPGA provider for accelerated versions.
If you need an FIA exhibit hall pass, please register here. We look forward to showing you how the game is changing with a demo of BTS Spark and helping you make your move.
FIA Expo 2017
October 17-19th
Blue Trading Systems – booth 1013
Hilton Chicago
725 South Wabash
Chicago, IL 60605

---
Details
In preparation for FIA Expo, we are excited to announce a partnership with Celoxica, a Field-Programmable Gate Array (FPGA) market access company, to bring you BTS Spark Powered by Celoxica.
Our joint efforts will result in far less market data jitter though lower, deterministic latencies and superior overall trading performance. The offering also includes a low latency spreader and a front-end User Interface with API access. Written in C++ for minimal latency, the solution can be collocated on private or shared servers.
While researching FPGA providers, we were most impressed with Celoxica's well-regarded position in the market. We recognized their solution's performance advantages and breadth of market coverage, including 65 major venues, as a perfect fit. Ensuring the most predictable market data for algorithmic and automated trading; Celoxica provides normalized data structure to trading applications with a single API integration.
"We are pleased to work with Celoxica, who shares our commitment to engineering excellence. Expanding our market connectivity under this partnership significantly broadens our potential market," said Taha Afzal, Managing Partner at Blue Trading Systems. "Our hardware-accelerated version of BTS Spark was built to answer futures traders' calls for a solution that better serves their needs. We expect it to become popular very quickly."
"We look to partner with first rate technology providers such as Blue Trading Systems to bring enhanced solutions to the market," said Kevin O'Connor, VP Sales, North America at Celoxica. "And with Celoxica now powering BTS Spark, we can combine best of breed products to deliver a truly unique Futures trading platform either directly to clients, or via a fully managed service."
We will be showcasing BTS Spark at FIA Expo Booth 1013 and invite you to visit us for a demo. Built from the ground up to meet today's demanding markets, BTS Spark offers a consistently fast platform with a robust futures functionality interface. We look forward to introducing you to our new solution for futures traders and the accelerated version powered by Celoxica.
---
Details
CHICAGO, IL & CHAPEL HILL, NC, October 10, 2017-- Blue Trading Systems, a leading provider of derivatives trading and risk analytics software, and Celoxica, a Field-Programmable Gate Array (FPGA) market access company, today announced BTS Spark Powered by Celoxica, a joint venture combining Celoxica's deterministic FPGA feed handlers and market gateways with Blue's new futures spreader BTS Spark.
Read more: BTS Spark Now Powered By Celoxica for Lower Latency, Deterministic Performance and Market Expansion
---
Details
We at Blue Trading Systems are proud to introduce BTS Spark, our futures spreader, at the Futures Industry Association Expo in Chicago on October 17-19. It delivers optimal functionality with speed and reliability. BTS Spark and BTS Edge, our options trading platform, are now both accessible via our new API. Please read below for more information and contact us to schedule a meeting at Expo.
Read more: BTS Prepares for FIA Expo
---
Chicago
318 W Adams St
Suite 1724
Chicago, IL 60606
Telephone: (919) 913-0850
Chapel Hill
194 Finley Golf Course Road
Suite 100
Chapel Hill, NC 27517